LNG: From niche market to booming business segment
With population growing and quality of life improving, the demand for energy is rising. By 2070 the world is likely to be using at least 50 percent more energy than today. At the same time, countries across the world intensify their efforts to tackle climate change and poor air quality.
Liquefied Natural Gas (LNG) is becoming more and more important as a source of energy supply, not least because technological innovations have provided new options for trading this fuel. In particular, LNG vessels have proven to be a safe and efficient transport option. This development has boosted the role LNG plays in the energy mix across the world and changed the trading environment tremendously: What was once a niche market has developed into a commodity trade, replacing other fossil fuels for transportation and energy supply more and more. How can the industry cope with those changing conditions? BSM is ready to provide some thoughts.
Shaking up the energy mix
Felix Leggewie, COO of Bernhard Schulte, illustrates the magnitude of the current change, "In March 2019, the number of LNG liquefaction projects under construction amounted to 22, with a total output of 97 million tonnes per year. The necessary transport capacity for the projects currently under construction is estimated to be 147 large LNG carriers."
In addition, there are currently 37 projects with an aggregate annual output of 250 million tonnes per year now in the Front End Engineering and Design (FEED) phase. The envisaged starting-up period lies between 2019 and 2028. To deliver the total quantity of LNG produced if all projects currently in FEED status come on line, it is calculated that an additional fleet of 270 vessels will be required. And there are another 66 projects in planning, which have not yet reached the FEED phase.
Even if not all projects materialise, natural gas is set to overtake coal as the second-largest fuel in the global energy mix by 2030, according to the International Energy Agency (IEA).
Fuelling global trade
In addition to being a traded commodity, LNG is becoming a preferred fuel for the world's merchant fleet, especially driven by the International Maritime Organization's (IMO) Sulphur 2020 rules, which are set to substantially cut sulphur oxide emissions from January 1, 2020.
William Watts, LNG Project Engineer at Bernhard Schulte, explains, "LNG is still a fossil fuel, but compared to other fossil fuels in use, it is the one with the cleanest exhaust gas components. There are no SOx or particulate matters and it features reduced NOx. LNG also has the lowest CO2 content compared to other fossil fuels."
Angus Campbell, Director Energy Projects at BSM, elaborates, "As anticipated, newbuildings are responsible for the majority of LNG-fuelled fleet growth. As the IMO Energy Efficiency Design Index (EEDI) requirements become tougher for shipyards, the attraction of a cleaner fuel will increase significantly."
The small-scale LNG sector is developing in a complimentary way to the large-scale industry. As natural gas develops into a fuel of choice for industrial consumers, smaller distribution methods are needed. Angus believes that this will predominantly be focused on areas disconnected from gas grids. "A further area of specialisation is developing in bio-LNG and clean LNG, driven by regulation designed to encourage efficiency aligned with carbon pricing. We are looking for opportunities in this area as demand develops," he adds.
A bridge to the future
Tim Mauersberger, Business Analyst at Bernhard Schulte, sums up the future of LNG, "Natural gas is an ideal bridging fuel for the next 20 to 30 years, due to widespread availability and established reserves. It will eventually be replaced by energy sources currently in development, such as battery technology, hydrogen technology and sustainable energy sources including wind, solar and bio fuels when they reach commercial availability."
Whilst the IEA has argued that the industry might be facing the risk of insufficient supply of vessels to meet market demand for LNG, BSM holds the opinion that there will be a wealth of newbuildings.
Felix illustrates, "Currently, there are about 140 LNG vessels under construction, mainly of large size. Based on experience and the fact that ships are currently being ordered indiscriminately again, whilst terminal projects usually come into service with a delay, we expect an initial oversupply of ships. However, this will slowly balance out."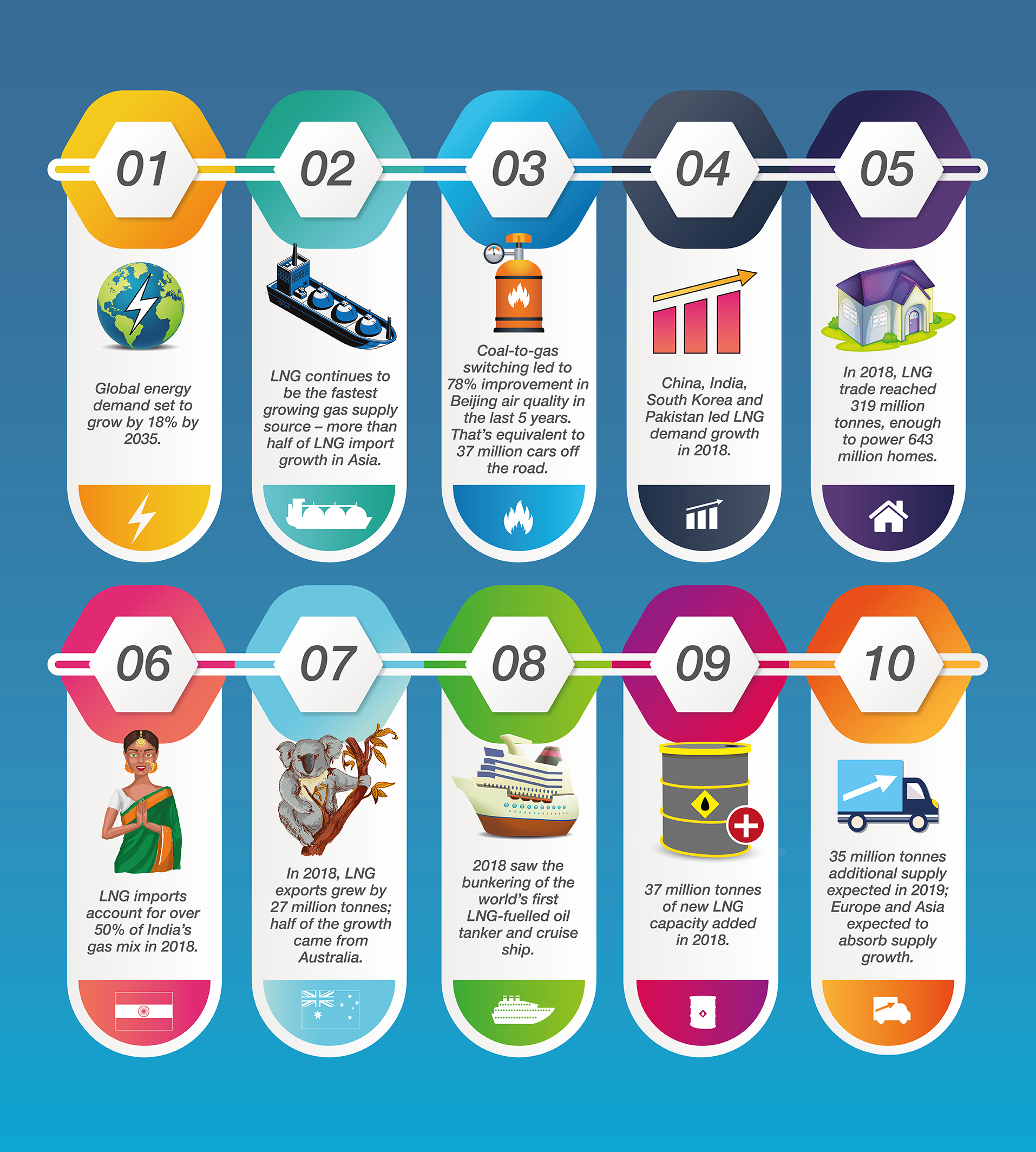 History repeating itself?
Angus adds, "History would suggest that our industry will not be able to resist the temptation to overbuild. If this happens in the large-scale LNG sector, earnings will come under stress and we will enter the cyclical boom and bust market that has endured for many decades in other sectors. If we can enforce more discipline, by accident or design, market balance is possible. On the small-scale LNG side, opportunities will be less commoditised, with ships dedicated to supporting specific projects. This, in turn, may maintain a reasonable balance on rates."
As the LNG fleet is seen as a premium business opportunity at the moment, ship owners do not appear to be reluctant to invest. Major LNG projects tend to secure tonnage to meet their needs on long term charters. Given the excellent counterparty risk offered by such charterers, BSM thinks it is unlikely that the supply will be insufficient.
"This is reflected by the increasing number of enquiries for OPEX offers and technical support we receive on a daily basis," William adds.
The LCC – best in class service
To underline its commitment to servicing the LNG sector, the Schulte Group has established its LNG Coordination Centre (LCC). This newly formed unit draws on the expertise of BSM's highly trained LNG specialists along with all its Ship Management Centres (SMC), Crew Service Centres (CSC) and Maritime Training Centres (MTC). Furthermore, the professionals at Schulte Marine Concept provide in-depth knowledge when it comes to newbuildings or conversions. The LCC cooperates with all Schulte Group entities and collects actual operational front-end experience for its clients, who gain a one-stop shop for all business aspects pertaining to LNG contracts. Once the management contracts have been signed, the LCC involvement would usually end and the client will be fully served by the SMC in charge.
BSM has established itself as the leading ship manager and service provider with profound expertise in the highly demanding LNG sector.
Recent BSM milestones pertaining to this industry are:
The start of a joint venture in 2017 with Babcock International Group, the UK's leading engineering support services company, for small-scale projects such as LNG bunker vessels. This partnership combines the maritime expertise of the Schulte Group with the complex engineering expertise of Babcock International and focuses on clean energy projects across the LNG value chain, e.g. including terminal operations.
The acquisition of the specialised LNG ship manager PRONAV at the beginning of 2018 by the Schulte Group.
The management of the MV Kairos, the world's largest LNG Bunker Vessel in service to date.
In October 2018, the Schulte Group entered the LNG vessel owning and operating business with its JV partner, Mitsui & Co Ltd, with the delivery of Marvel Hawk; a 174,000 cbm LNG carrier.
The formation of the LCC complements these achievements and bundles BSM's expertise in an easily accessible way.
Felix explains, "We provide new and potential clients with top quality competent advice and support from the very beginning. They benefit from one centre of experts, where we realise synergies from across our Group."
The LCC provides its clients with a realistic OPEX budget and guidance on all aspects of their projects. This includes activities regarding the implications of charter parties, advice on obtaining the most advantageous class arrangements and compliance. Commercial, technical and crewing aspects are included as part of the service as well.
William highlights, "The LCC involvement further ensures a uniform approach to the customer, regardless of which SMC will finally manage the ship. This avoids internal competition and leads to an optimal usage of our LNG resources."
Safety first
Operating LNG vessels requires a maximum of safety and security measures as well as a high level of expertise – and most importantly it needs the right people to run and manage those ships.
The LNG shipping industry has an enviable safety record. In its 54-year history there has never been a major accident or spill, a record that none in the other sectors of the shipping industry match. The vessels are considerably costlier to construct than those of other sectors. As a result, they are maintained to a very high standard and crewed with very competent staff engendering best in class performance.
Training for seafarers as well as shore-based staff is of vital importance for BSM. The Group features an impressive safety record in the LNG industry segment, not least through applying training, high-end technology and a strict maintenance regime. However, the company is not resting on its laurels. A crewing expert has been established as part of the LCC, and together with BSM will introduce a cadet programme, training for new seafarers and pooling of LNG crew members.
Tim explains, "We're already working on meeting the expected demand for skilled crew. Our Group has realised that considerable investment in the training of our crews is required to provide a pool of competent, well-educated officers and crew. This will entail onshore specialist training and parallel sailing of ranks to gain experience and matrix time. These measures will enable us to meet the ever-tightening requirements by authorities and oil majors and boost our gas pool roster."
"Manning will be the determining factor of our future success in this expanding segment and we are well prepared to go the extra mile," Felix sums up.