Since the announcement of 2020 as the year for IMO enforcement on 0.5 percent Global Sulphur Cap on fuel content, the industry decision makers are discussing and exploring various alternatives to comply with the regulation. The viability of LNG as an alternative vessel fuel is being discussed intensively at conferences around the world. BSM as a leading ship manager is part of these discussions and, attending various conferences to share itsviewpoints.
Angus Campbell, BSM Director of Energy Projects, and John Eltringham, BSM Project Director, as well-respected thought leaders in the shipping industry specialising in energy-related topics, represented BSM as key note speakers at various conferences in the last quarter of the year.
BSM Singapore also continues its active participation at regional key conferences, discussing trending and emerging topics facing the industry with other key players.
LNG Bunkering Roundtable 2018
Angus attended the Maritime and Port Authority of Singapore's 2nd 'LNG Bunkering Roundtable 2018' themed "Advancing to the next phase of LNG as a Marine Fuel", as panel speaker and presented the view of BSM as a ship manager specifically on LNG shipping and the Blue Baltics Project.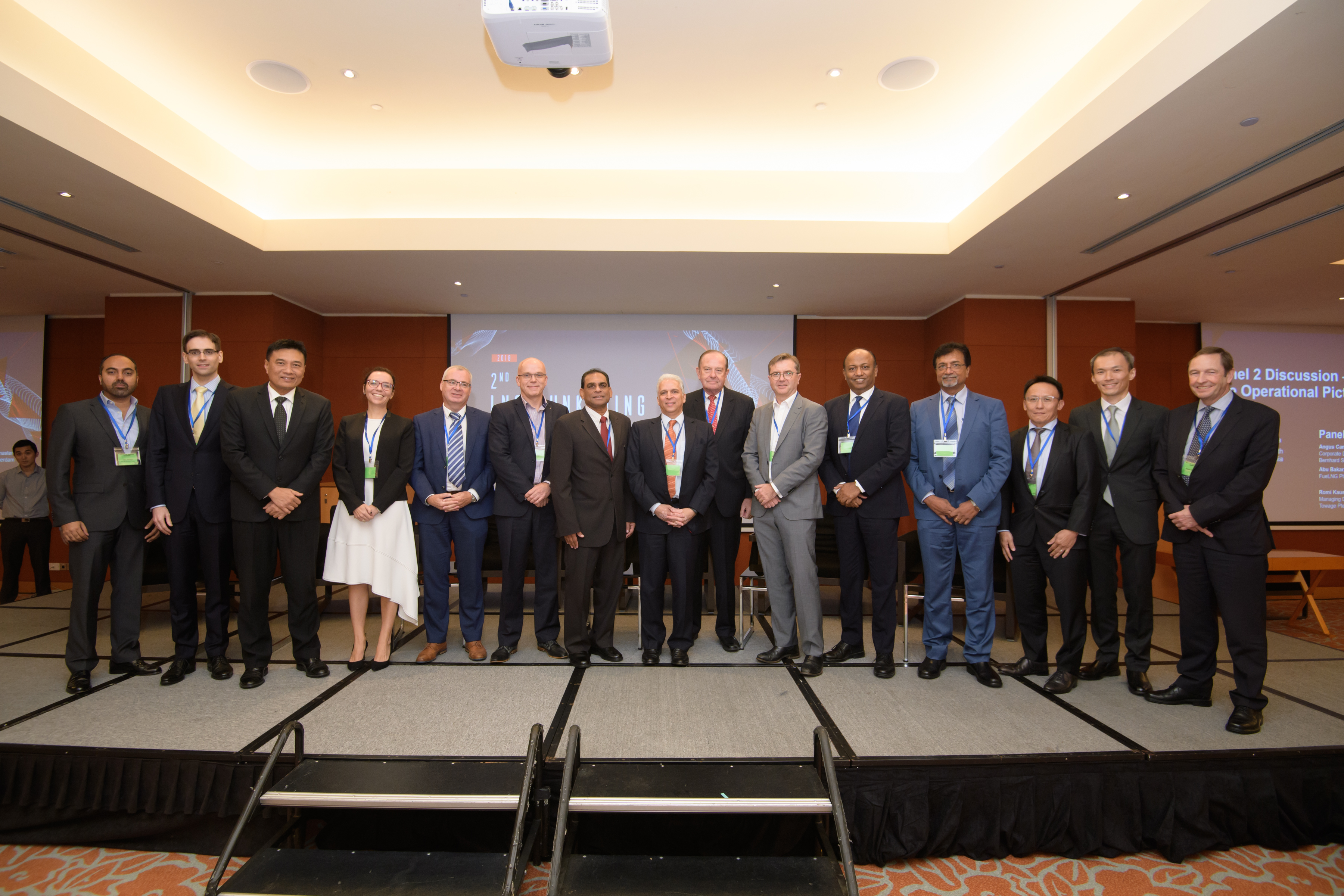 Small-Mid Scale LNG Summit 2018
BSM sponsored the Amsterdam-based event 'Small-Mid Scale LNG Summit 2018'. With LNG as the focus and various industry experts present, John presented as panel speaker the changes and drivers impacting the maritime industry. He shared BSM's views on why LNG is the cleaner option for ships from the perspective of a ship manager.
SHIPPINGInsight 2018 Fleet Optimisation and Innovation Conference
For another year, Angus proudly chaired the 'SHIPPINGInsight 2018 Fleet Optimisation and Innovation Conference', an annual industry symposium in Stamford, Connecticut, attended by over 250 maritime professionals. The main objectives of the conference were to fully explore fleet optimisation options for today's shipping industry and understanding the innovations that are shaping the new shipping world.
Gas Asia Summit 2018
BSM was present at 'Gas Asia Summit 2018', the only natural gas-focused conference within the Singapore International Energy Week framework, organised by Gastech. For the third consecutive year, BSM was proud to be bronze sponsor of the conference, which was attended by over 400 participants. As part of the panel session discussing about LNG for power, maritime and trucking, Angus presented one of BSM's most recent initiatives 'Babcock Schulte Energy', a joint venture between Bernhard Schulte and Babcock International, providing solutions for a cleaner energy future.
LNG Ship/Shore Interface Conference – Asia 2018
Raymond Peter, Managing Director BSM Singapore, participated at the 'LNG Ship/Shore Interface Conference – Asia 2018' as speaker. Organised by the Society of International Gas Tanker and Terminal Operators (SIGGTO), the conference focused on best practices in Asia and discussed various aspects of the ship and shore interface, including where LNG carriers and terminal operations link to discharge LNG, cargo and custody transfer systems.
Raymond shared BSM's viewpoints as a ship manager on a panel discussion focusing on best practice standards for safety.
17th Vessel Efficiency & Fuel Management Summit
Gideon Herbst, Fleet Director BSM Singapore, was given the opportunity to chair the '17th Vessel Efficiency & Fuel Management Summit', an industry event supported by the Singapore Shipping Association.
This summit offered an industry discussion platform to identify priority areas for international action against the Global Sulphur Cap 2020 and exchange best practices in fuel management. Further, during the summit attendees were able to discuss about the latest developments in maritime energy-efficient technologies. Gideon, as an experienced maritime professional, led the conference and moderated the discussions on current and future challenges in shipping regulations.
With the enforcement of Emission Control Area and fuel/sulphur regulations across the world, as well as nearing to the Global Sulphur Cap of 2020, this summit focused on the regulations affecting vessel operations and companies in Singapore Waters.