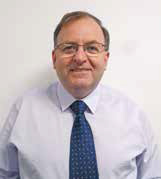 Despite the United Kingdom's ongoing uncertainty over the future of the Brexit negotiations, the country's maritime productivity, employment, turnover and contribution to GDP continue to be robust.
According to a report by Maritime UK, an umbrella body for the UK's maritime industry, the sector experienced a 12.7% increase in turnover, a 6.6% increase in GVA and 3.9% increase in employment over the past five years.
The industry now supports nearly one million jobs in the UK economy. British maritime workers are also productive: the productivity per worker for a maritime sector is £77,897, compared to an average of £50,830 for other skilled professions. The sector contributes nearly £40 billion to the UK economy each year.
"BSM has deep and long-standing roots in the UK and we are now in an exciting period of growth and change," said Neil McNeil, Managing Director of BSM British Isles operations.
BSM's British Isles presence comprises a major Crew Service Centre in the Isle of Man as well as a fully-fledged third-party technical shipmanagement operation in Newcastle.
The Isle of Man provides crewing services to more than 100 vessels, while Newcastle has 18 vessels under technical management, including 15 Bernhard Schulte (BS) owned ships. Neil spends time in both locations and frequently commutes between the two Centres, which were merged in 2016 into a new Ship Management Centre, known today as BSM British Isles.
The straight-talking Scot is optimistic about the UK as a major centre for BSM's global operations.
"Yes, there have been challenging times, but I believe we are through those now. We are very optimistic about the UK as a Ship Management Centre. We are watching Brexit developments, but it is not a significant factor in our business, because shipmanagement is such a borderless, international business," he said.
BSM is building the UK into a centre of excellence for the Group's management of gas carriers and other gas related initiatives as part of its drive into high specification, value added areas of business.
Neil says the level of expertise found in the UK combined with cost effectiveness presents a compelling choice for customers.
"We have proved we can compete globally and we are now seeing the evidence for that," he adds, pointing out that BSM had recently added Flex LNG as a new customer.
Flex is entrusting BSM British Isles with the management of two new LNG carriers. The ships will be managed in Newcastle with crew supplied by the Isle of Man.
He notes that BSM's recent acquisition of the specialist German gas ship manager PRONAV created opportunities to share expertise and knowledge in the sector and this was something Neil is aiming to build through 2018.
In addition, the Isle of Man office will assist with the supply of specialist crew for a Gas Supply Vessel (GSV) which the Group is building in partnership with Babcock International. The BSM office in Hamburg will manage the GSV which is due to be delivered in September 2018 and demonstrates the Groups commitment to these new technologies.
Aside from specialised gas carrier management, BSM British Isles also had a breakthrough in the car carrier market recently.
Neil said, "In February 2018, we took over management of our first car carrier, owned by Nissan, which is a big step forward for us and we hope to add more of these vessels under our management soon."
The former Regional Fleet Manager for BP Shipping has no doubt that increasing the number of vessels under technical third-party ship management in the UK is his top business priority.
"We have the right conditions in place now and we believe the British Isles offices will complement each other when it comes to attracting new customers."